Give People What They Want and Don't Charge Too Much
Sounds pretty straight forward right? Give people what they want and don't charge too much. That's the business model my father Milton (Mitzie) Chazin used to start Western Construction over 68 years ago in 1949.
Minneapolis Saint Paul Garage Construction Special
When you invest in a new Western garage between now and April 15th 2018, Western will tear down your old Twin Cities garage absolutely FREE*. This is one way we can keep our promise and our garage construction cost as low as possible.
Free Garage Removal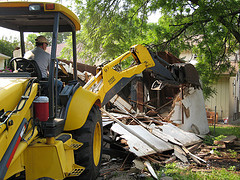 For example, the typical Minneapolis St Paul removal project is 14x18. That's 252 square feet @ $5.50 per square foot removal charge for both the framing and slab comes to a anniversary savings of $1,386.00. A 16x20 removal project with our anniversary special could save you $1,760.00.
Western Garage Builders will recycle your old garage.
Every slab we remove will be brought to a recycle center, ground into small pieces less than 1"x1" and then used as the perfect base under your new slab.
I also have a contact who will try to remove your old garage if it's in good enough shape and re-sell it. In most cases the cost to move your garage to another location is higher than the demolition cost but it's still worth the effort.
Minneapolis Garage Builders and Saint Paul Construction Specialist are ready to help you save.
What should you do next? Please contact one of our trained specialist for a free quote, its that easy. You can fill out our contact form now or call Minneapolis Saint Paul 952-920-8888.
Hurry, Western's FREE Garage Removal Special is available for a limited time and will end April 15th 2018.
Again, you can simply fill out the form on the right or give us a call Minneapolis St Paul 952-920-8888
*Limited time offer. Offer good only on Detached Garages purchased from Western Constriction, Inc. Free garage removal up to 320 square feet, Not valid with any other offer.